Tasowheel Group Oy
Globally local
Tasowheel is a family-owned Finnish company with a strong, versatile experience in providing customer-specific, first-class solutions and components for diverse power and movement transmission needs. Close collaboration and long-term cooperation with our global customers are key components in our business. We understand our customers' needs and goals and provide solutions that deliver real value. By constantly investing both in people and in latest machine technology at our own plants in Tampere and Tikkakoski, we can provide our customers with the best solutions and service.
TASOWHEEL GROUP OY
Growing international technology group
Turnover over 22,5 million euro
AAA- Credit rating classification
Indirect export over 90%
130 employees

HISTORY
In motion since 1979
Since establishment in 1979 Tasowheel has made an eventful journey. The company that started as a locally operating gear wheel manufacturer has grown to become a growth-oriented, internationally operating multi-industry group. One thing has remained the same over the years, namely family ownership.
Family business After careful and long consideration and encouraged by his wife Seija, Taisto Sorjonen set up a gear manufacturing company. Today Taisto´s son Kari is heading Tasowheel, and the third generation is already working hands on in the company and learning the business.
The need and will for growth The different stages on Tasowheel´s journey have been marked by diverse economic cycles. Since the very early days of operation, the company has been heading toward growth through expansion, acquisitions and new businesses, as well as extending activities from the domestic market towards more international environments. Today, Tasowheel´s focus still remains on further growth at the home base and abroad.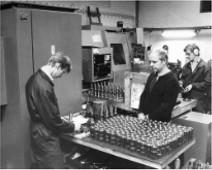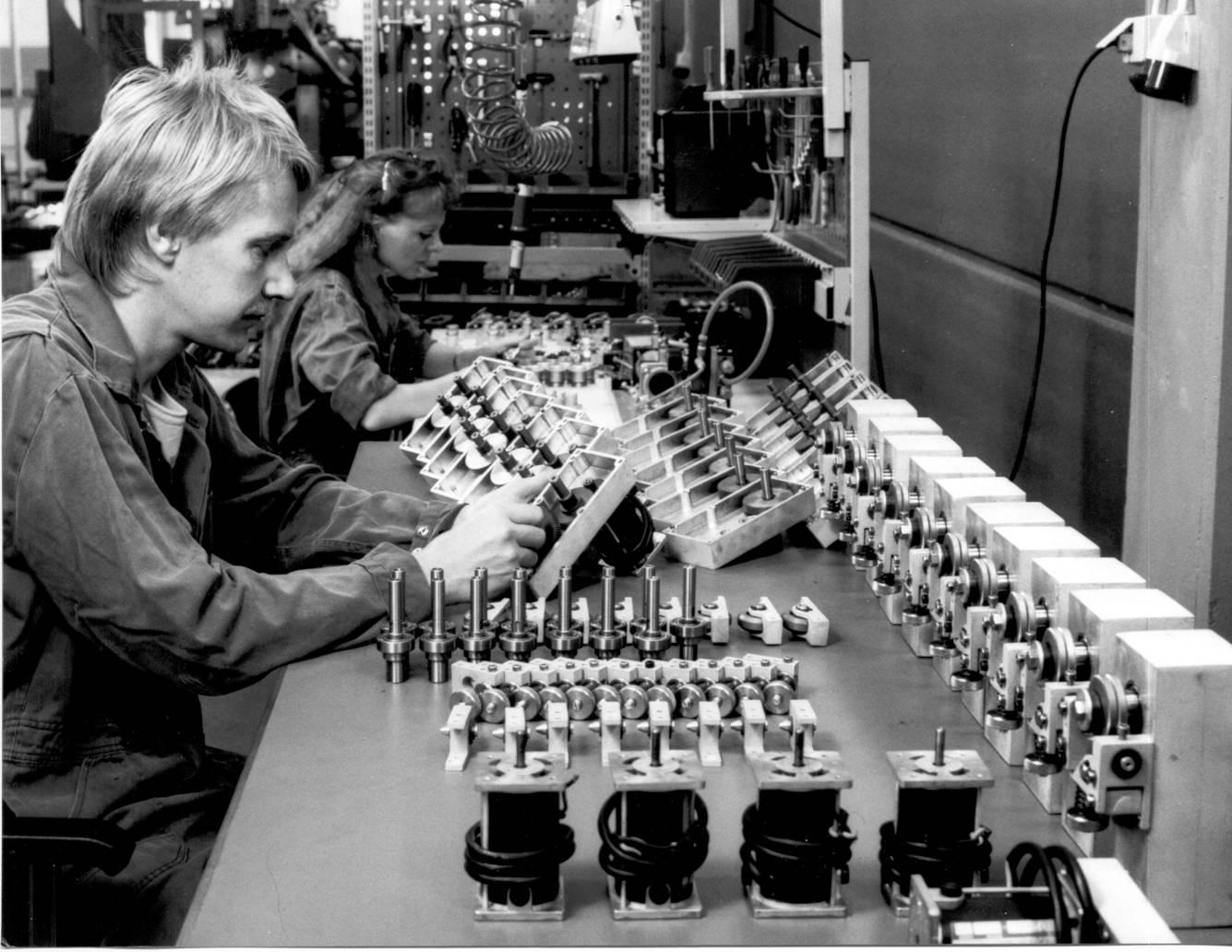 Tasowheel today
The movement is forward
Interest regarding new opportunities as well as strong commitment to developing the company  opens new business areas and possibilities. Future challenges and opportunities require new types of solutions and choice. The emphasis of Tasowheel's operations will stay on servicing clients efficiently. The company is committed to searching for ways that help customers meet the market demand competitively, today and also in the future. This creates potential for profitable business for all parties involved. Today, Tasowheel designs and manufactures systems, components and services for the needs of companies operating in the process and machine building industry as well as health tehcnology. The company supports its customer through a wide range of services related to product development, testing, simulation, measuring and logistics.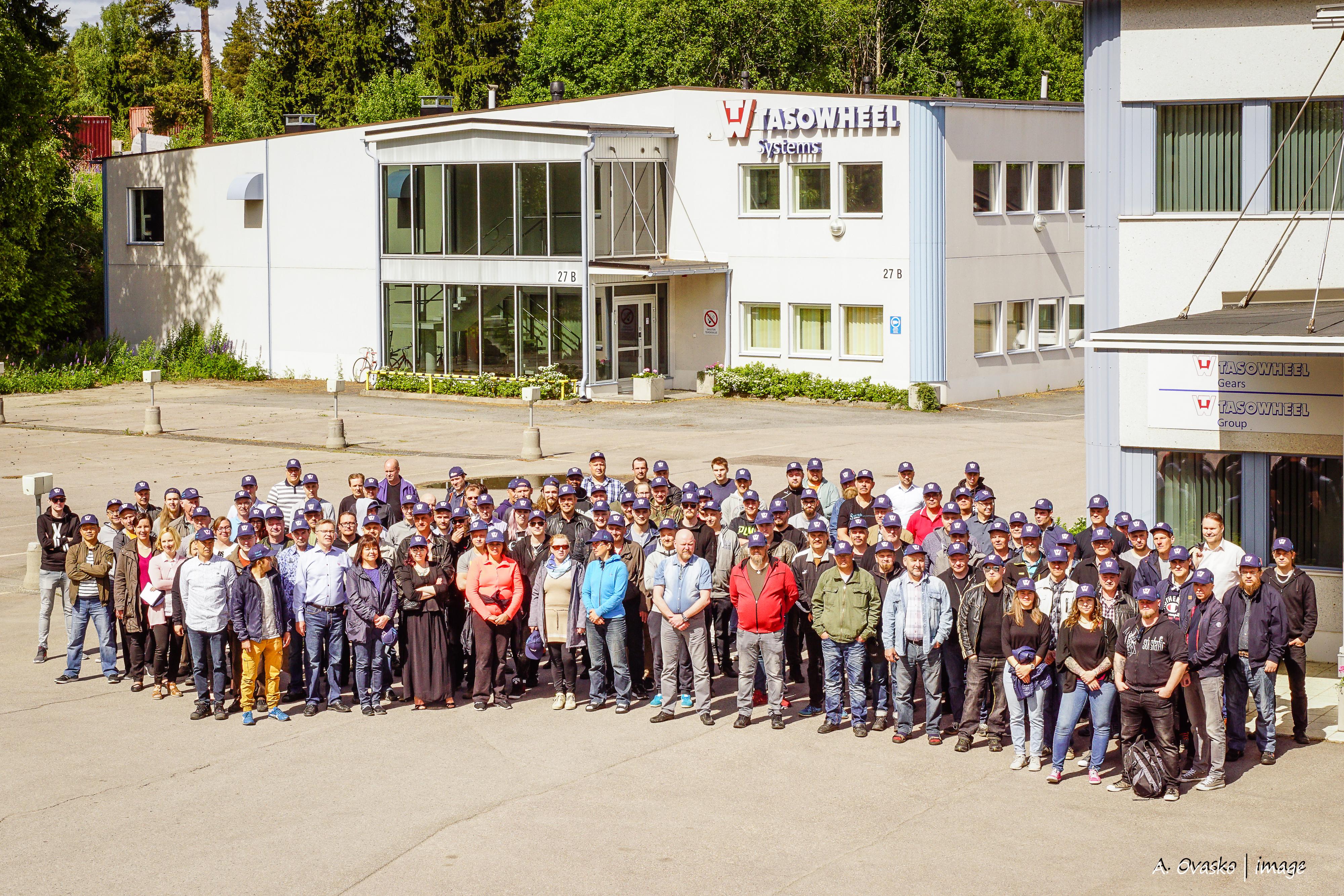 TASOWHEEL PRODUCTION FACILITIES
Tasowheel Group Oy consists of three manufacturing companies, which have two production plants in Tampere and one in Tikkakoski. The total size of the production facilities is 10300 m².
All Tasowheel companies act globally aiming at sustainable growth. Tasowheel Group has invested heavily in advanced machinery, production technology and equipment to support strong growth and high productivity targets. The annual investment in new machinery  is approximately 10% of the turnover.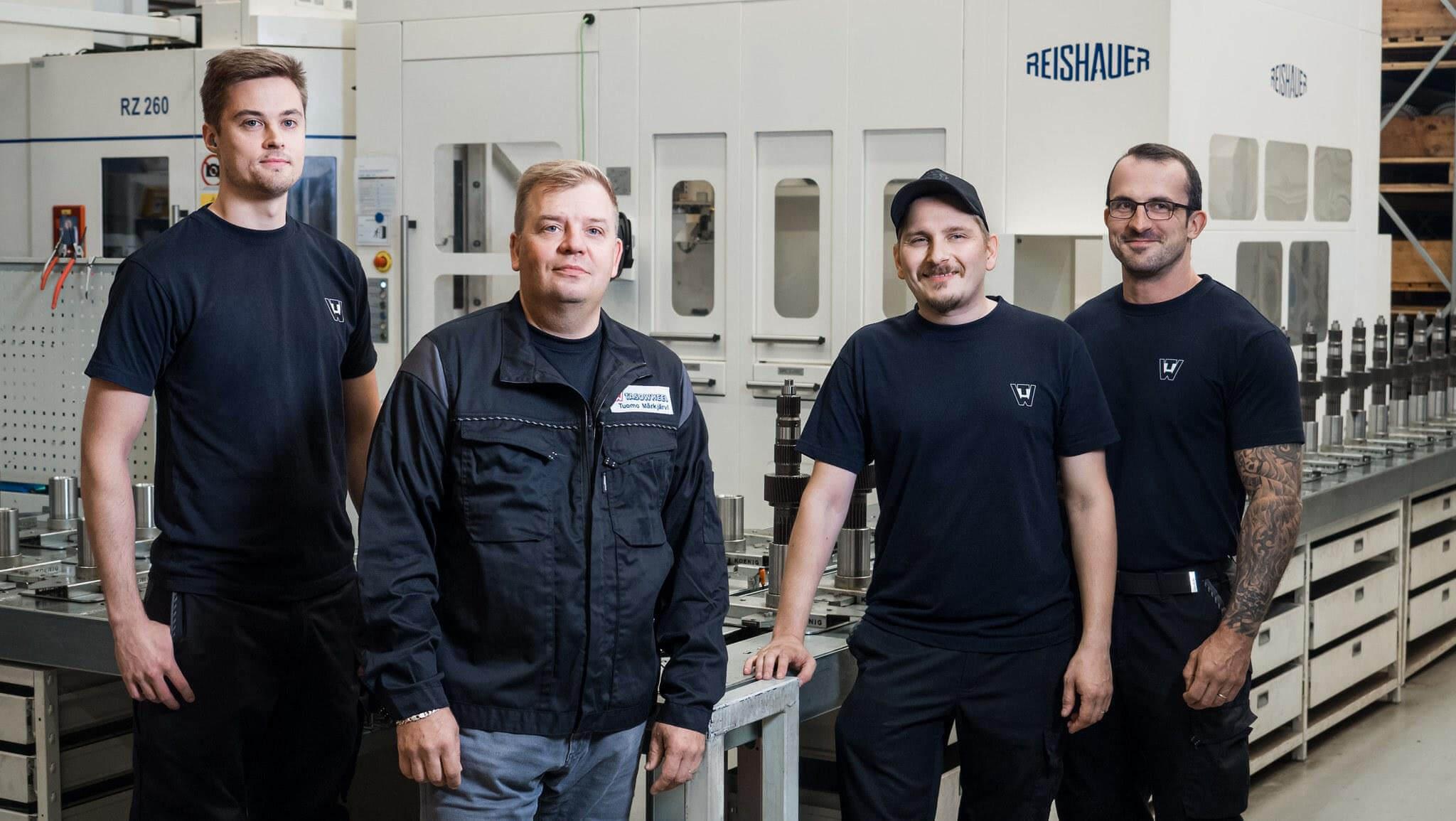 People
Despite the latest technology and modern manufacturing facilites, skilled employees are still the key to our success. We have highly qualified and experienced employees, who come from a wide variety of educational and cultural backgrounds, making it possible for our team to tackle complex challenges and to exceed the expectations of our international clients. Our human resources policies and practices are based on courage and collaboration. We operate with the highest level of ethics and integrity in all aspects of our business.

MACHINERY:
30 Turning machines
18 Milling machines
24 Grinding machines
13 Gear hobbing machines
5 Gear shaping machines
3 Gear grinding machines
1 Worm grinding machine
9 Inspection machines
3 Broaching machines
4 Robots
2 Wire EDM
1 ECM machine
19 other machines
Our mission and values
Creating value with successful co-operation
Our customers are globally operating companies in various industries. We aim to build long-lasting partnerships with them and have succeeded in that goal. We support our customers with solutions and services made by professionals, for professionals. By committing ourselves to the continuous development of our operations and the search for new application areas for our products we help our customers find business opportunities and gain a better competitive advantage. By investing in cutting-edge technology, we give our customers possibilities to answer future challenges – be it better efficiency, more compact product size or lower energy consumption.
CORE VALUES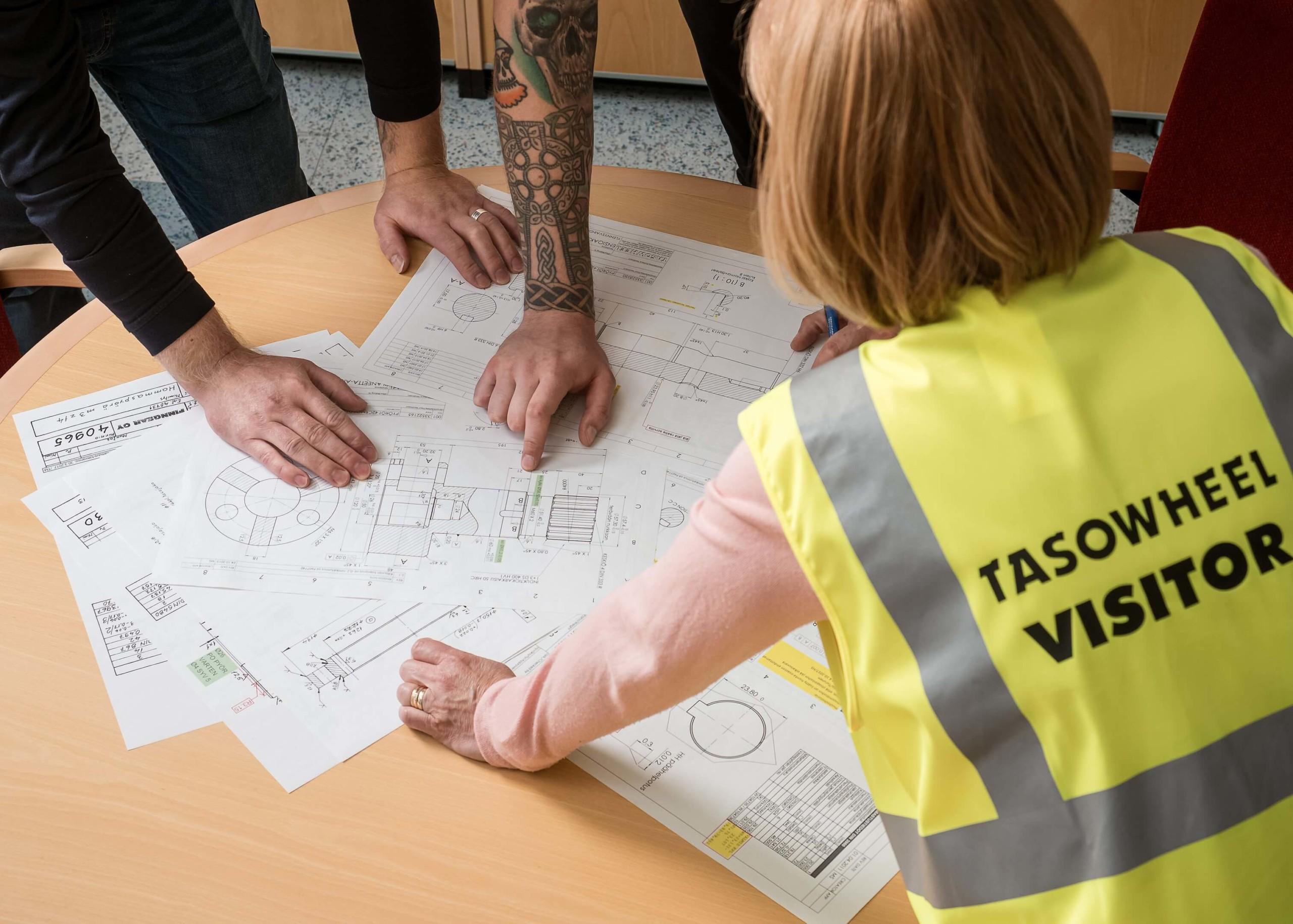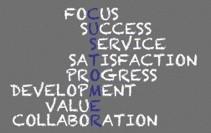 Customer orientation We understand our customer needs and we serve them actively and personally. A quick and flexible way to work is our competitive edge.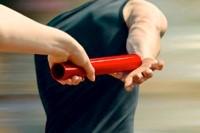 Success together We respect each other, value good attitude and professional skills. By co-operation we ensure mutual success.
Learning and regeneration We want to learn continuously and update our know-how. We encourage the systematic development of operations.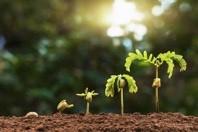 Continuity and profitability Confidential relationships create the foundation for a long and fruitful co-operation and partnership.
TASOWHEEL arvot
Asiakaslähtöisyys
Ymmärrämme asiakkaidemme tarpeet ja palvelemme heitä henkilökohtaisesti ja aktiivisesti.
Joustava ja nopea toimintatapamme on kilpailuetumme.
Yhdessä onnistuminen
Kunnioitamme toisiamme, arvostamme asennetta ja ammattitaitoa. Yhteistyöllä varmistamme kaikkien menestyksen.
Oppiminen ja uudistuminen
Haluamme oppia jatkuvasti sekä uudistaa osaamistamme. Kannustamme toiminnan systemaattista kehittämistä.
Jatkuvuus ja tuloksellisuus
Luottamukselliset suhteet luovat perustan pitkälle ja tuloksekkaalle yhteistyölle sekä kumppanuudelle.
Tasowheel Groupille Pirkanmaan vientipalkinto 2017
Tampere Chamber of Commerce and Junior Chamber International Tampere have awarded Tasowheel Group the Pirkanmaa Export Prize 2016.
The competition jury recognized Tasowheel's successful long-term investments to increase its exports.
Tasowheel first became an exporter back in the 1980s by starting from other Nordic countries and then gradually expanding its export activities to various countries around Europe. More recently, the company has entered such major export markets as North America, China, Brazil, and Russia.
In 2016, Tasowheel was exporting its products to as many as 32 countries. As the market in its domestic Finland remains stagnated, practically all of the group's growth is achieved through growing exports.
Awarded since 1968, the Pirkanmaa Export Prize can be considered a noteworthy award, as companies awarded in the past include a large number of high-calibre Finnish exporters.
"This prize truly raises us to a prestigious list of winners," said Mr Kari Sorjonen, Chairman of the Board, Tasowheel Group. "We are clearly on the right path with our export-focused strategy, and we are constantly taking big strides forward. This prize belongs to all of our 120 employees."
Tasowheel expects its exports to continue growing in the future as well. Under the helm of recently-appointed CEO Mr Jarmo Kuikka, the group aims to strengthen its foothold in its existing markets, as well as actively keep its eyes open for new opportunities and challenges.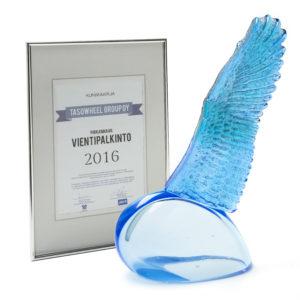 Quality Control in our hand
Modern quality equipment is used

Klingelnberg

Zeiss & Zeiss PhiWeb

Mitutoyo

Barkhausen

Nital etching

We aim to constantly improve our quality and productivity (KPI)

APQP process:

Project management

Statistical process analysis (Cp & Cpk)

PPAP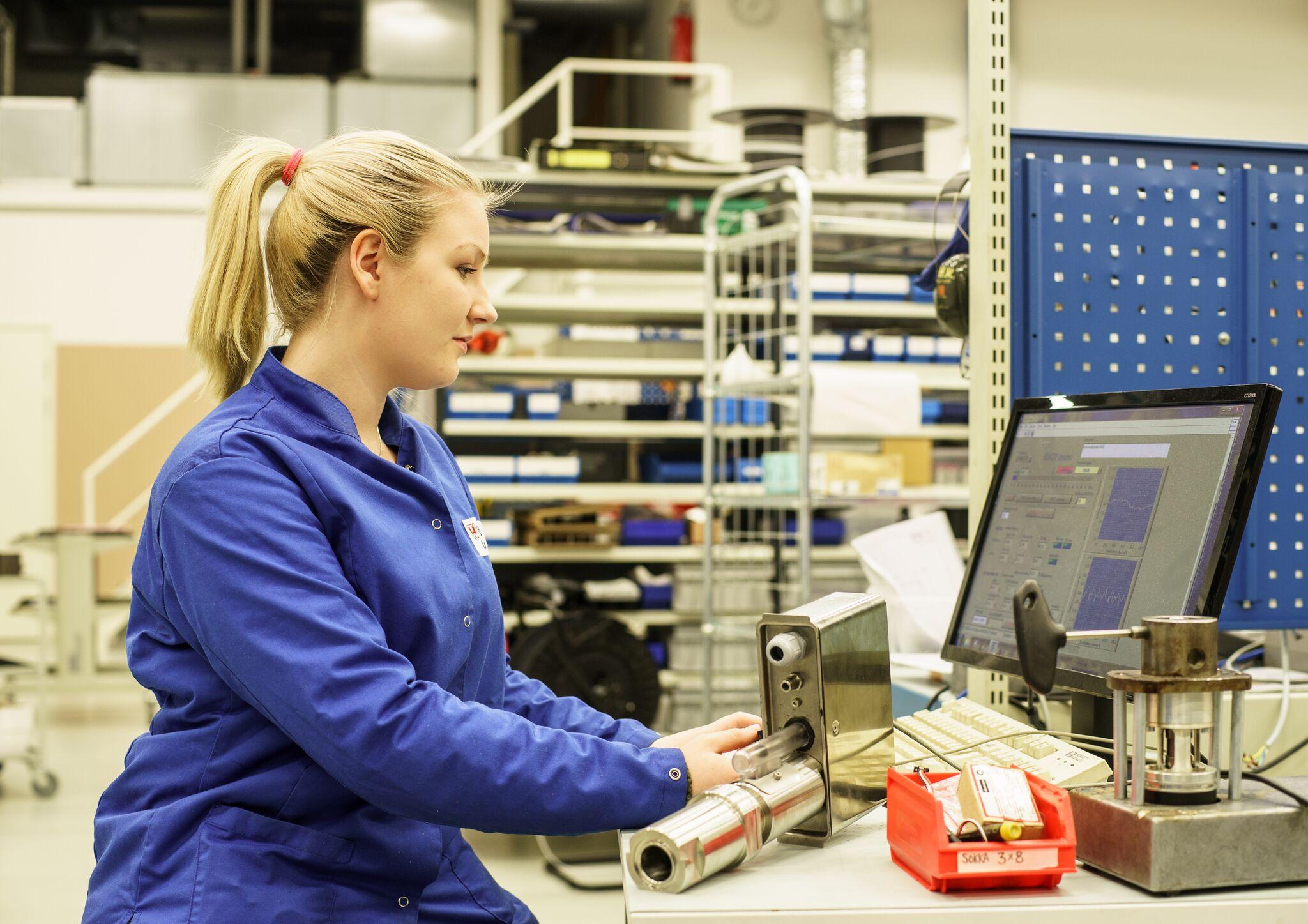 Corporate sustainability practises
Integrated part of the company´s operations and management culture

ISO 14001 Environment certificate since 2005

AAA- Credit rating classification

Finnish "Family company of the year" award in 2007
32  Tuning machine

20  Milling machine
23  Grinding machine
14  Gear hobbing machine
4    Gear shaping machine
4    Gear grinding machine
1    worm grinding machine
8    inspection machine
Yearly investment ratio ~ 10 % of turnover