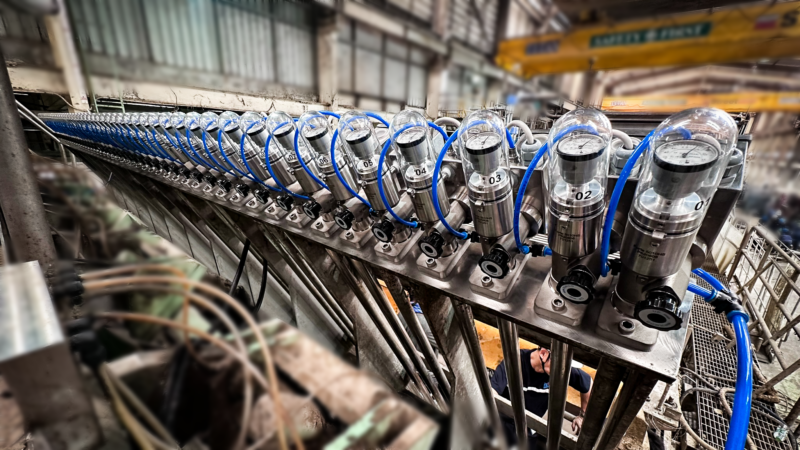 Reviving Control and Quality: A Success Story of Headbox Rebuild.
Inter Pacific Paper Co. LTD, a well-known name in the kraft paper manufacturing sector in Thailand, recently partnered with Tasowheel Oy to overcome basis weight profiling challenges in their BM1 in Prachinburi province.
The collaborative project aimed to enhance control and quality by upgrading the cross-directional (CD) control system and replacing outdated actuators in their two headboxes.
Global partner network
PMPRO Co. LTD, a local partner of Tasowheel, had previously conducted a study and maintenance on the customer's headboxes. At that time, Inter Pacific Paper was actively seeking a partner to upgrade their slice control system.
"Tasowheel is a good match as a partner. The automatic slice control system from Tasowheel is the perfect upgrade option for many customers" says Jakrapong Thitipornkajit, General Manager of PMPRO
Tackling profiling challenges
Inter Pacific Paper operates a two-layer board machine dedicated to producing high-quality liner. However, like in any aging machine, the headbox profiling equipment had reached the end of its life, causing several challenges in basis weight profiling.
The bad condition of the motorized slice actuators in the primary headbox resulted in an undesirable ovendry weight profile and a loss of control.
Additionally, the manual actuators of the secondary headbox were severely deteriorated.
The paper exhibited multiple errors attributed to the malfunctioning headboxes and the overall manufacturing process. Two-sigma values were out of target range, leading to a suboptimal reel profile, which, in turn, impacted reel build-up and created variations in the final product. Furthermore, this situation posed a bottleneck for the winding machine.
The primary goal of the collaboration was to improve the control of the board machine and take the board's CD control quality and runnability to the next level by effectively managing the ovendry weight profile.
Tasowheel solution
Tasowheel proposed a turnkey project where the competitor´s CD profiling actuators and control were replaced by its products.
The scope of delivery included new Forte slice actuators (picture 1), CD control for the primary headbox and manual slice actuators with purge air for the secondary headbox. In addition to this, the delivery included fastening equipment for actuator to slice lip. Dismantling and installation were executed in good collaboration with the customer. Tasowheel CD control system was commissioned and fine-tuned in a couple of days to ensure precise control of ovendry weight and to get paper in specs.
The cooperation between the customer, Tasowheel, and PMPRO was marked by fast and effective communication, ensuring a seamless transition and successful project execution.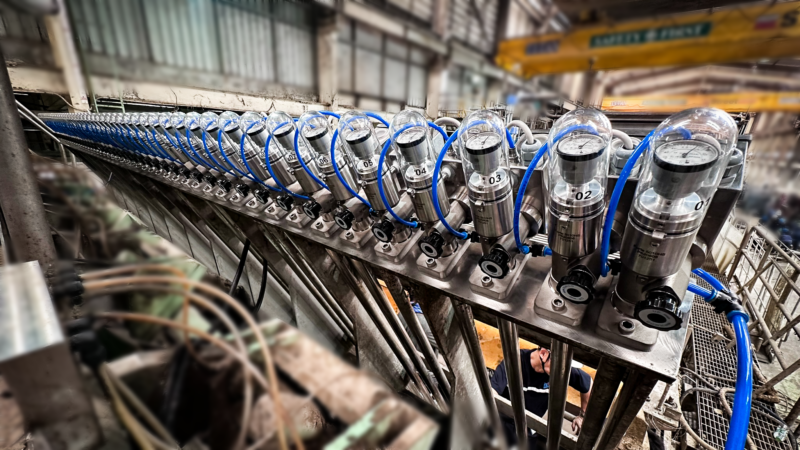 Surpassing Expectations
The collaborative effort yielded remarkable results. Initially, a 50% improvement in the 2-sigma values was guaranteed. However, right after startup and stabilization, the results surpassed expectations, with over 80% improvement achieved to reel average.
The CD control system was up and running, and the startup phase showcased the immediate production of high-quality paper.
"This was a big and important project for Tasowheel. We demonstrated our capability to manage this scale turnkey competitor replacement project without any support from third party QCS suppliers" says Janne Kosola, Senior sales manager.
The collaboration between Inter Pacific Paper and Tasowheel has not only revitalized the control and quality of the board machine but also ensured the reliability and high performance of the CD control system with new actuators for years to come. This achievement was realized with a reasonable investment, highlighting the efficiency and effectiveness of the partnership.
PMPRO
Co. LTD was founded in Thailand in 2011 by industry experts with paper mill and international machine manufacturer experience. Their services encompass upgrades, maintenance, troubleshooting, equipment renewal, and the supply of paper industry-related spare parts and machinery. Their client base includes significant paper, board, tissue, and pulp mills in Thailand and Southeast Asia.
Tasowheel
Oy with over 40 years of experience, is the original manufacturer of complete Quality Control Systems. We deliver complete turnkey projects for paper, board, pulp, and tissue machines. Our products and services include all profiling systems, CD & MD controls, as well as first-class measurement frames and sensors.