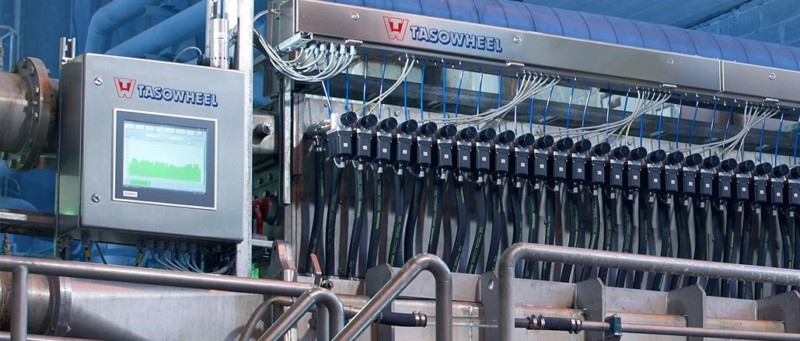 The Best Possible Customer Feedback: A Repeated Order
The original article was published in Paper 360 (January/February 2023).
Over the years Tasowheel has been recognized as a notable profiling actuator manufacturer which continuously develops technology and quality of its products.
During the last decade the company has been steering the focus towards complete profiling systems and project deliveries. After tens of slice and dilution control systems, turnkey steam profiler deliveries have been a natural step to expand capabilities to a whole new level.
Successful cooperation
Satia Industries Limited is one of the biggest Wood and Agro based paper manufacturers in India. The company focuses on manufacturing high quality printing and writing paper.
Mutually beneficial cooperation between companies has lasted almost a decade. Prior to the latest Steambox delivery to PM2, Tasowheel delivered all basis weight profiler actuators and valves to all four paper machines in customer site at Muktsar. In addition, the new steambox to PM4 was delivered by Tasowheel. Over the years of collaboration, we have succeeded to build strong trust in between the companies, and Satia remains to count on Tasowheel and its products.
"A new order from a customer is the best possible feedback there is. We are beyond happy to deliver the third consecutive steambox to PM1."
-Mikko Kinnunen, Business Director.
Creating added value for the customer
What was the reason for customer to invest in a steambox? There was two main challenges. The first one was to increase machine speed and production through higher dry content after press section. The other challenge was to improve the cross directional moisture profile, and to save energy in the dryer section.
To conquer these challenges, Tasowheel supplied steambox with electromechanical steam actuators (STA-1015) and valves, as well as the control system. The CD-moisture control was delivered by a local partner, Jasch Industries Ltd.
The results speak for themselves. Already during the first days after start-up, the uniformity of CD-moisture profile was at excellent level. Absolute 2-sigma value was decreased from 0.9% to less than 0.2% moisture. Sheet dryness after press section improved significantly more than 1.0%, enabling higher machine speed.
"As an outcome of the project, we are extremely happy with the results. The agreed quaranteed values were exceeded. Moisture profile uniformity is very good and the dry content after press section increased more than we expected! We are planning a rebuild to PM3 press section and Tasowheel's steambox will be important part of investment."
-Dr. Satia, the owner of Satia Industries Ltd.