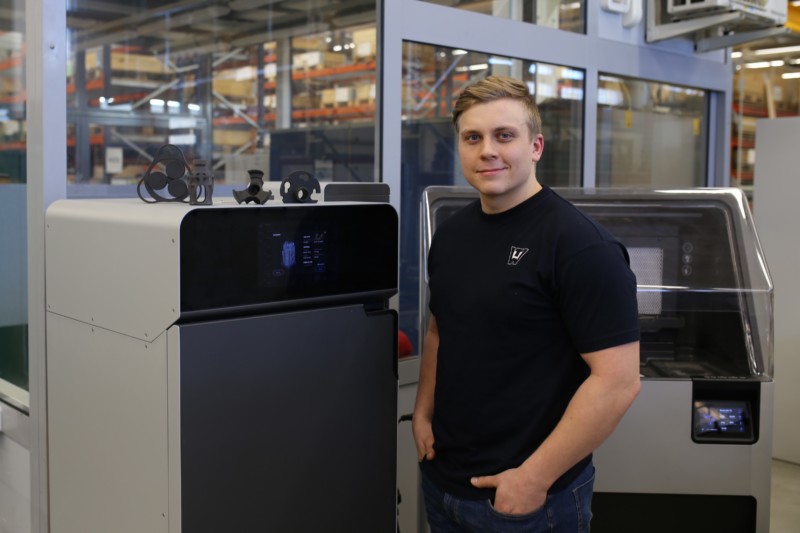 Without experienced and skilled staff, even the most advanced 3D printers are useless
Despite of his young age, 24-year-old design engineer Jesse Kitinoja knows Tasowheel almost like the back of his hand. During his 4 years at Tasowheel, he has worked all around the company with plenty of different people, which facilitates him working with anyone and anything within the company. In his every-day-work, he is used to utilize 3D printing in his daily tasks, and now takes us to know better the multifaceted possibilities of 3D printing.
3D printers, and more specifically, four FDM printers have been an essential part of Tasowheel's designing team for a while now. Since the first FDM printer arrived in the company's premises in 2017, over 600 kg of string has been printed with them. The advantages of 3D printing are undeniable, and easy to point out. For example, if a parts holder or a gripper of any machine breaks and hence interrupts unfinished work, it is possible to print a new, compatible gripper with a 3D printer. By doing this, it is possible to get the machine back to work rapidly, instead of waiting for a new part from another supplier for weeks, even for months. This is highly reasonable economically, as printing a new part is cheap and relatively fast.
In June 2022, the newest member of the 3D printing team arrived. Namely, a SLS (selective laser sintering) printer was acquired, and it has been a game changer. The SLS printer is faster than an FDM printer, and it can print multiple items at the same time, which spares even more time. The major difference between the two printer types is the precision of which the SLS printer is capable of. Using a high-power laser to sinter small particles of polymer powder into a solid structure based on a 3D model, one can print amazingly exact items with it, whereas outputs from a FDM printers are made of strings making the items a bit cellular, the outputs from a SLS printers are solid, making them more durable and precise compared to FDM prints. This, then again, naturally increases the mechanizability of the printed parts, which is an important aspect concerning our work.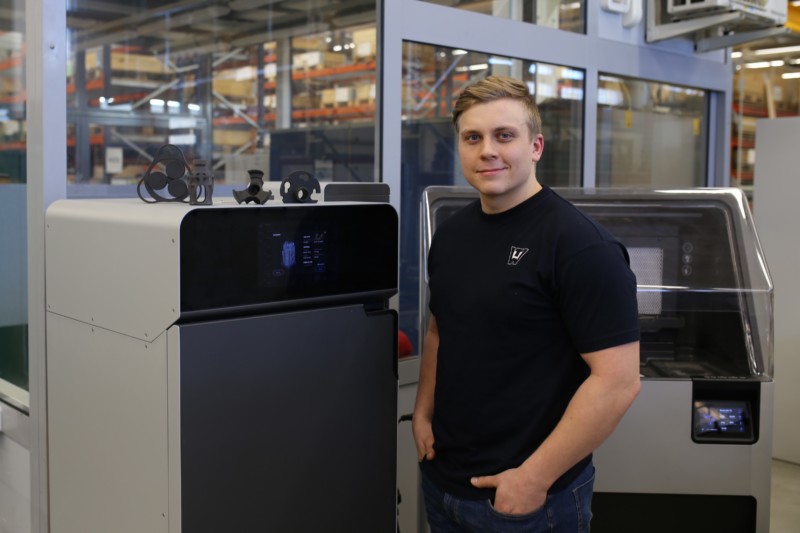 But no matter the excellence of a machine, it is the know-how and experience of a human that eventually matters the most. Despite the capability of a SLS printer to print almost unlimited forms and shapes, without a skilled human designing the models to be printed, great results and achievements remain out of reach. To make miracles happen with the 3D printer, a lot of talent, know-how and experience about designing 3D models, as well as about what to print, and what to do with other methods, is required.
With years of experience from 3D printing, and skilled designers filled with enthusiasm to learn more and finding the best solutions to fix and solve problems, we at Tasowheel can provide service concerning 3D printing for our customers in the future. In addition, printing extremely advanced and high-quality prototypes with the SLS printing method is possible, creating essential customer value within our customer relationships. Until this day, over 150kg of polymer powder have been used in printing with the advanced SLS printer at Tasowheel, and much more is yet to come. We believe that the increasing use of 3D printing is the future in the machinery industry, and that is why it is one of our priorities to be on the crest of a wave in printing and develop our know-how and skills among this fascinating practice.