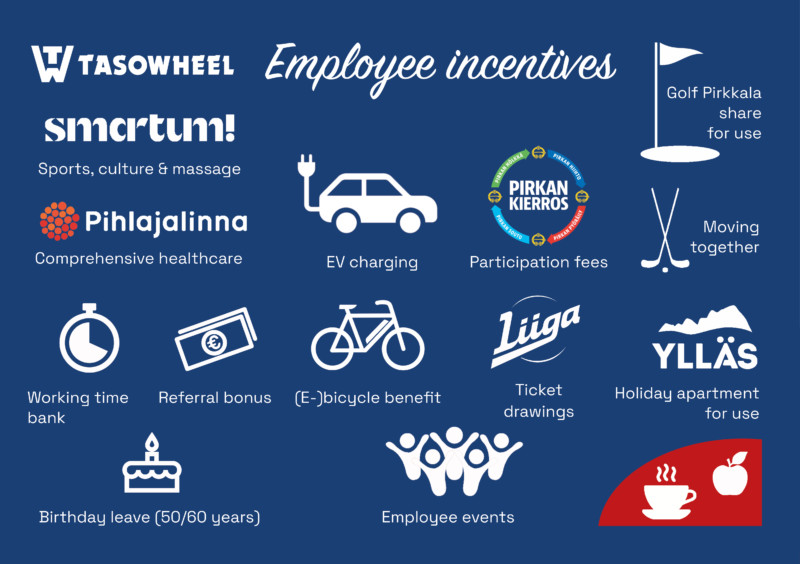 Our employee incentives
What do a brand-new e-bike, relaxing holiday in Lapland, and a day off on your milestone birthday have in common? They are examples of our employee incentives, designed to attract, engage, and retain talent.

"Retaining talents is as important as recruiting them. There is no universal formula to engage employees, but we must develop efficient incentives that motivate all generations, says HR manager Kati Louhiniitty."
At Tasowheel, employee incentives come in many forms: from comprehensive healthcare services, flexible hours, and culture & wellness budgets to a bunch of more unique incentives, such as the possibility to book a holiday apartment in Lapland or use the company's golf share – or even hop on the ice with Tasowheel's own hockey team. For those who prefer watching, tickets to the Finnish league games are regularly drawn. After all, there are many other ways to promote physical health, for instance, by participating in the popular events of Pirkan kierros – either running, cross-country skiing, rowing or cycling – free of charge.

Workday wellbeing is boosted by free coffee and fruit. On those days when cycling to work is not an option, it is simple to charge your EV on the company parking lot.

And yes, attracting new talents also benefits existing employees: any recommendation that results to a new hire is rewarded with a referral bonus.