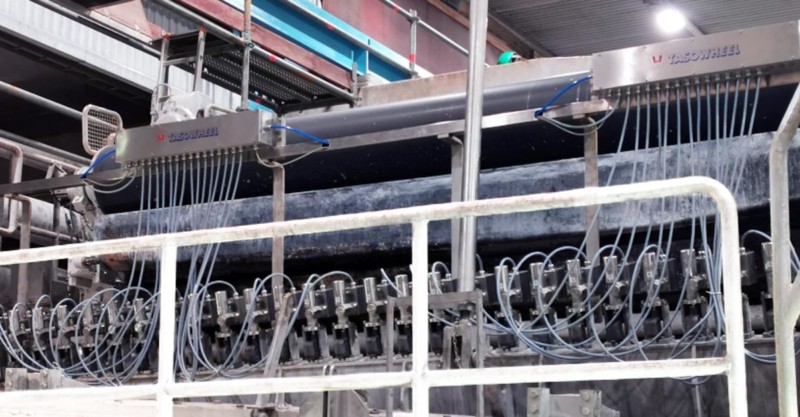 Tasowheel Systems receives repeat order to refurbish slice control automation at Holmen Iggesunds paperboard mill
The company received a major order from the Iggesund Mill in Sweden for refurbishing two more headbox slice control systems for headboxes 1 and 4 on KM1. Headboxes 2 and 3 were refurbished by Tasowheel in 2020.
Tasowheel Systems will supply slice control automation technology to machine KM1, headboxes 1 and 4, at Holmen Iggesunds mill in Sweden. The delivery includes 2 x 29 new, motorized slice control actuators and the related equipment. The new actuators will replace the current, also Tasowheel made, ca. 20 years old actuators. Tasowheel will tailor the new actuators to be mechanically fully compatible and install them as a "drop-in" replacement solution. The start-up is scheduled for week 38.
"We are modernizing our quality control equipment on machine KM1 to continue keeping high availability and quality on our board production. It was a tight time plan for the modernization last year and it will be the same this year, but we have a competent project team, so we are confident that history will repeat itself", says Peder Hägglund, Technical, Project and IT Manager.
"Last year, we made a successful project on headbox 2 and 3 together with the Iggesund project team. This repeat order was a great expression of trust and satisfaction for our work. We look forward to continuing the same success on this project", says Jukka Ahlstedt, Sales Manager of Tasowheel Systems.
Information about Tasowheel Systems
Tasowheel Systems designs and produces solutions for CD profiling, as well as components, spare parts and maintenance services for paper and board processes. Over 200,000 Tasowheel actuators and dilution valves are operating in paper production processes worldwide. Read more
Contact:
Tasowheel Systems Oy
Jukka Ahlstedt, Sales Manager
Hepolamminkatu 27 B, FI-33720 Tampere
Mobile +358 401 429 001, Direct: + 358 207 757 406, Board: + 358 207 757 400
Email: jukka.ahlstedt@tasowheel.fi
Nipman Paper Technology
Robert Clayhills
Kammakargatan 64, 111 24 Stockholm, Sverige
Stora Robertsgatan 20-22, Helsingfors, Finland
Tel: +46 8 559 23 019, Mobil: +46 70 48 35 567, +358400216702
Email: robert.clayhills@nipman.com