Lifelong learning at Tasowheel: Reviewing strategy, improving organizing skills
In addition to supporting individual competence development, employee training has to link to the business excellence required to meet future objectives. Competencies reflect the organization's strategy; that is, they are aligned to short- and long-term missions and goals.
Competence leadership is strategic and forward-looking. We see our people as our most important asset and competitive factor, says CEO Jarmo Kuikka.
Tasowheel's strategic core competencies serve as the basis for sustainable success. They define the company's competitive edge now and in the future, and make competence development more business-oriented.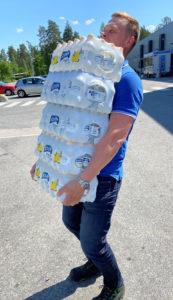 Antti Kautto participated in leadership training for executives that promised its participants the necessary skills and knowhow to manage a growing business. The course covered all aspects of business leadership, such as vision, strategy, customer strategies, production, and productivity.
For Antti, production manager at Tasowheel Tikka, the course provided new perspectives of the key financial decisions and alternative financing models, as well as sharpened his understanding of more familiar aspects of leadership. He thanks Tasowheel management for the support and openness they expressed in the strategy discussions that were part of the training.
Obviously, we already have a strategy, but we reviewed it in the light of the new ideas that emerged from the training.
The strategy discussion was Antti's major takeaway from the course that nurtured his own work and its development. The course also provided him with precious hints for time management and organizing. Discussing the hidden costs of interruptions at work was a true eureka moment.
The price of an interruption is infernal. If you were designing a model, making calculations, or writing something before the interruption, the restart – reassembling your thoughts and readiness – can take 15 minutes.
Today, Antti thinks twice before knocking on a colleague's door and asking for "a minute".
Unless it is an emergency, I will just call up a short meeting, so that everyone can schedule their work accordingly.
As part of the course, the participants were tested for their leadership qualities and focus. Goal orientation and calmness were Antti's most distinctive focus areas, just as he expected.
I was only surprised by the maximum level of both attributes!
So it is no surprise either that the goal-oriented production manager has even more on-going courses, such as board performance and personnel management. The Lean training, developed together with Taitotalo, still waits for the final cancellation of all COVID-19 restrictions.
It would be impossible to standardize our operations remotely.