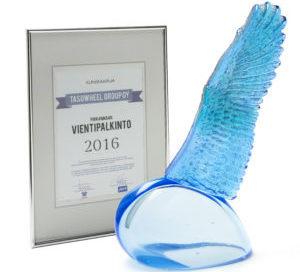 Tasowheel Group Oy Wins Pirkanmaa Export Prize 2016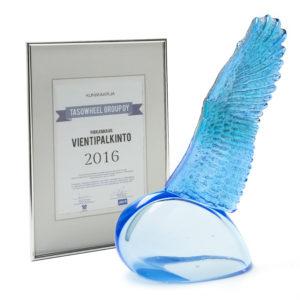 Tampere Chamber of Commerce and Junior Chamber International Tampere have awarded Tasowheel Group the Pirkanmaa Export Prize 2016.
The competition jury recognized Tasowheel's successful long-term investments to increase its exports.
Tasowheel first became an exporter back in the 1980s by starting from other Nordic countries and then gradually expanding its export activities to various countries around Europe. More recently, the company has entered such major export markets as North America, China, Brazil, and Russia.
In 2016, Tasowheel was exporting its products to as many as 32 countries. As the market in its domestic Finland remains stagnated, practically all of the group's growth is achieved through growing exports.
Awarded since 1968, the Pirkanmaa Export Prize can be considered a noteworthy award, as companies awarded in the past include a large number of high-calibre Finnish exporters.
"This prize truly raises us to a prestigious list of winners", said Mr Kari Sorjonen, Chairman of the Board, Tasowheel Group. "We are clearly on the right path with our export-focused strategy, and we are constantly taking big strides forward. This prize belongs to all of our 120 employees."
Tasowheel expects its exports to continue growing in the future as well. Under the helm of recently-appointed CEO Mr Jarmo Kuikka, the group aims to strengthen its foothold in its existing markets, as well as actively keep its eyes open for new opportunities and challenges.